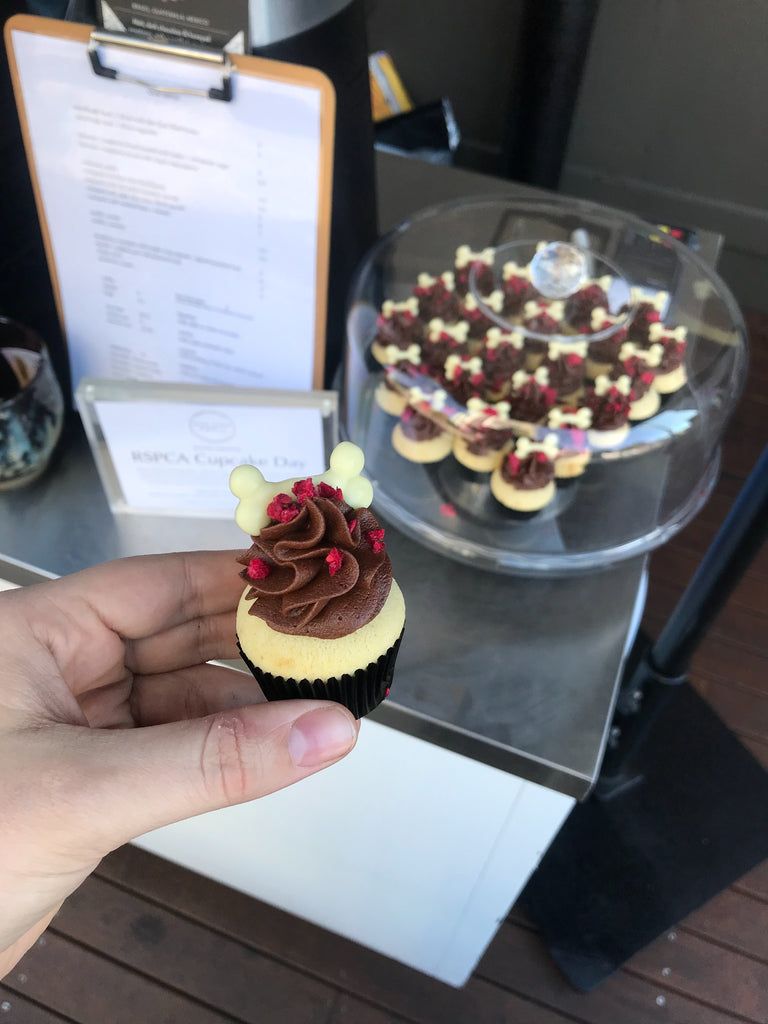 Ingredients
For Cupcakes
150g Plain Flour
150g Caster Sugar
1tsp Baking Powder
Pinch of salt
120g Unsalted Butter (softened)
120g Milk 
80g Egg Mix (see notes)
2g Vanilla Flavouring
Ganache Icing
340g Dark Callebaut Chocolate (melted)
240g Cream microwaved 
Decoration
Freeze-dried Raspberry Crumble
100g White Callebaut Chocolate (tempered)
Equipment needed:
Stand/Handheld Mixer
Piping Bags and Star Piping Nozzle
Mini Cupcake Cases
Method
1. To start, make the ganache by heating the cream in the microwave until hot. Melt the chocolate and stir into the hot cream until well combined and set aside.
2. For the cupcakes, combine all dry ingredients into a mixing bowl. Mix in softened butter with a paddle attachment until a crumb forms.
3. Weigh out the egg mix, milk and vanilla flavouring and slowly stream into the mixer, giving it time to mix in each bit as you go.
4. Continue mixing for 2 minutes or until there are no lumps in the batter.
5. Evenly distribute the batter between the mini cupcake cases, fill them close to the top but not full.
6. Bake cupcakes for 12 minutes at 150 degrees, take out when done and leave out to cool.
7. While waiting for the cupcakes to cool, temper the white chocolate and transfer to a piping bag.
8. Pipe out 45 small dog bone shaped decorations.
9. Once the ganache has cooled down, it can be whipped in the mixer using a paddle attachment.
10. When the ganache is light and fluffy, transfer it into a piping bag with a star tip nozzle and pipe onto the cupcakes. Top off with a raspberry crumble and a chocolate decoration.
Tips
1. For extra flavour, jam and other fillings can be added in the center.
2. Flour can be substituted for Gluten Free flour. 
Notes
To create the egg mix, simply mix two eggs together and whisk with a fork, weigh what you need.