Chocolate Dipped Marshmallow Cookie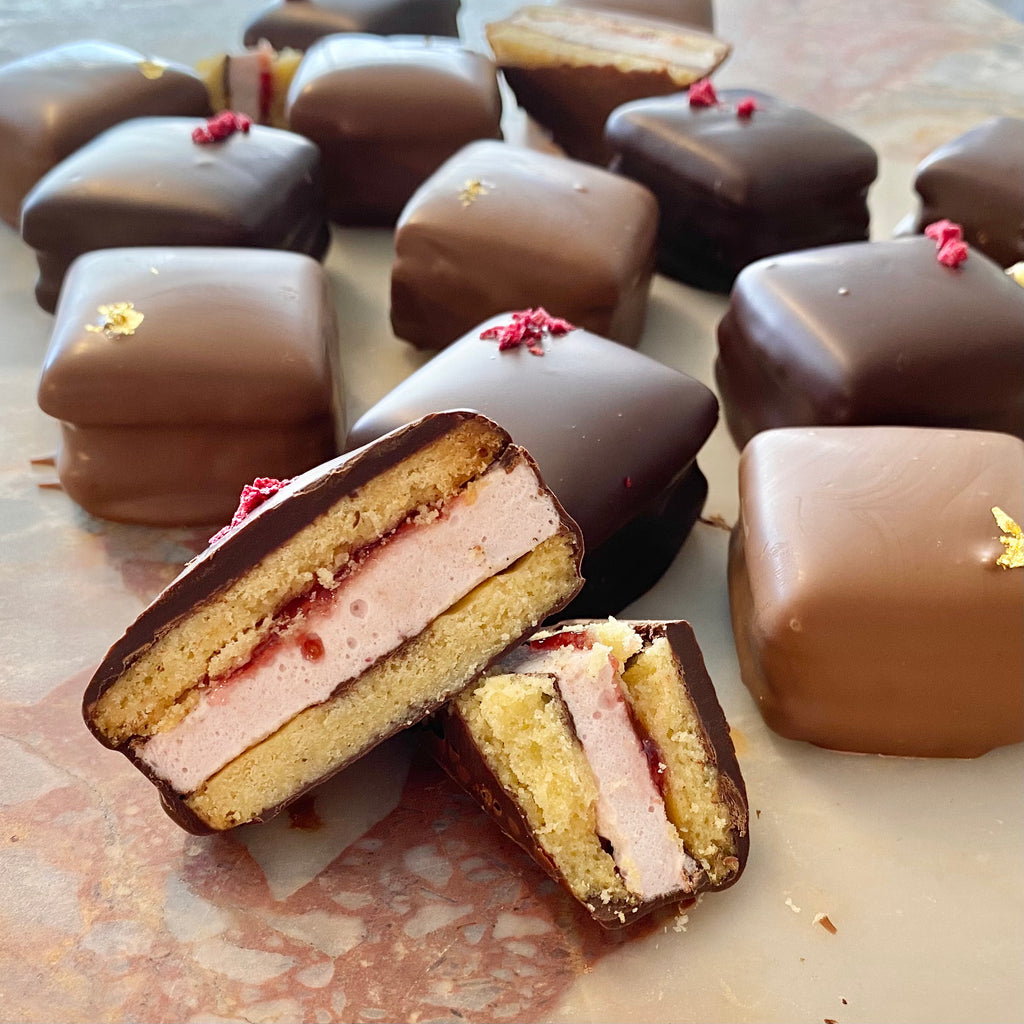 Ingredients
1x 4 Pack of New Farm Confectionery Marshmallows
300g Jar of Raspberry Jam
800g Milk Callebaut Chocolate (tempered)
125g Unsalted Butter (softened)
80g Castor Sugar
1/2 tsp vanilla flavouring
30g Egg (see tips)
150g Plain Flour
Pinch of Salt
Equipment
Stand Mixer or Hand Mixer
1x Piping Bag
Dipping Fork/Bent fork
Rolling Pin
Method
1. To start the biscuit, cream the softened butter, vanilla and sugar in the mixer. 
2. Add the egg and mix until combined, follow with the salt and flour on a slow speed until just combined.
3. Take the biscuit dough out of the mixer and make sure that all of the flour is incorporated into the dough. 
4. Form a flattened out square and refrigerate for 30 minutes. (see photos)
5. To prepare the marshmallows, trim them to 4cm x 4cm square, then slice into 4 pieces per marshmallow. 
6. Roll out the dough on top of baking paper to a thickness of 4mm and cut into 4cm squares using a ruler. (see photo)
7. Chill dough for an additional 15 minutes and preheat the over (fan forced) to 170 degrees. 
8. Once the dough is firm, separate and place pieces on a baking tray with a few centimeters between each biscuit. 
9. Bake for 10-12 minutes or until lightly brown.
10. Let the biscuit cool on the tray.
Assembly Instructions
1. To assemble the cookies, match your biscuit pieces together and lay out 32 squares.
2. Fill a piping bag with jam and cut a small hole at the end. Pipe a small amount of jam onto the underside of half the biscuit pieces.
3. Stick your marshmallow slices onto the jam dots and centre as much as possible.
4. Pipe a larger amount of jam onto the underside of the remaining pieces and carefully sandwich the pieces together.
5. Temper your chocolate in a bowl (see tempering blog post) and prepare a tray with a sheet of baking paper. 
6. Place cookie on the surface of the chocolate and gently push down using the dipping fork  until the cookie is completely submerged. Place the fork underneath the covered cookie and bring to the surface, tap off any excess chocolate, wipe the base on the side of the bowl before placing on the baking paper. 
7. Repeat the process with all of the cookies.
Tips
1. Use a fork to scramble an egg in a cup and weigh out 30g from there.
2. Choose your favourite flavour of marshmallows, jam and chocolate to make your own creation!
3. You may need to warm up your chocolate when dipping with cookies. Microwave the chocolate for 5 seconds at a time and recheck the temperature.