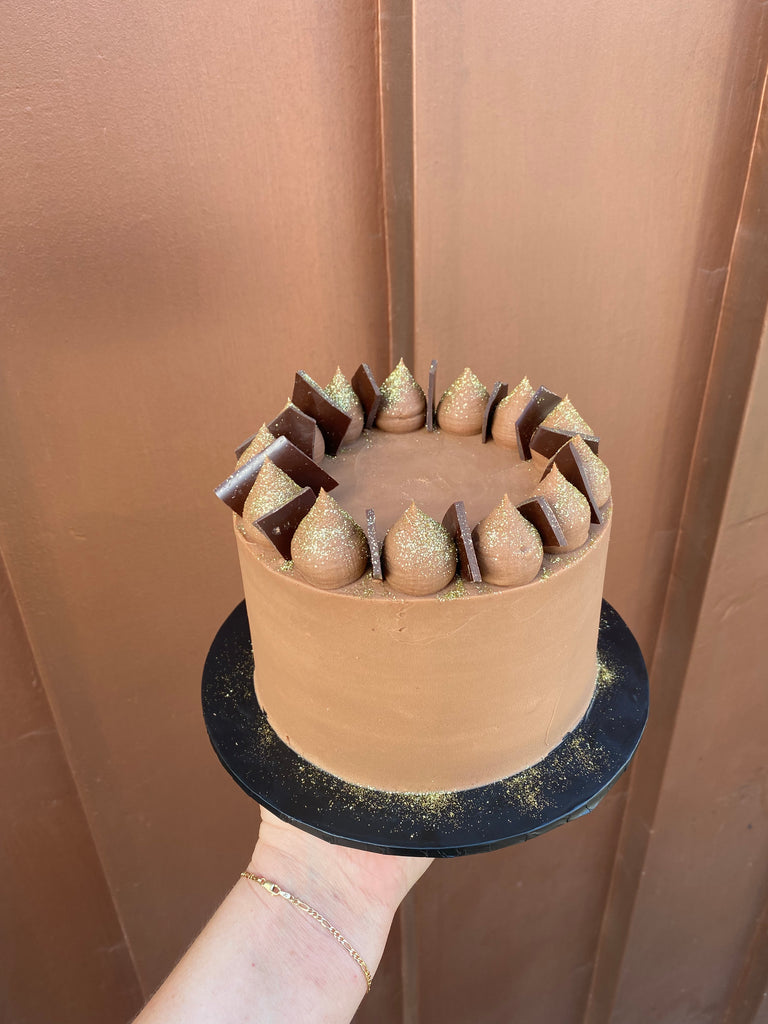 Ingredients
Cake
150g Unsalted butter (softened)
225g Caster sugar
75g Vegetable oil
4 Eggs
220g Plain flour
60g Cocoa powder
2tsp Baking powder
1tsp Bi-carb soda

Ganache 
550g Dark Callebaut Chocolate 
370g Cream 
Equipment:
3x6 inch pans
Stand or hand mixer
Cake turntable (not necessary but will make things easier)
Baking paper
Palette knife or Flat scraper
Small saucepan
Piping bag / Piping tip (if desired)
Cooling rack
Heatproof bowl
Method
To begin the cake, use a stand, or hand mixer to cream your butter and sugar until it is very light and fluffy.
Continue to mix and add in the oil.
Continue to mix and add in your eggs one by one until well combined.
In a separate bowl, add all of your dry ingredients and combine to ensure they are evenly mixed together.
With your mixer on slow add in you dry ingredients one spoon at a time. Do not overmix.
Once it is fully incorporated, divide the batter between your three cake tins and bake at 175 degrees (fan forced) for 20-25 minutes.
Remove from the oven and allow to cool on a cooling rack.
Once the cake has completely cooled, you can make the ganache. 
Placing the chocolate in a heatproof bowl.
In a saucepan, bring the cream up to a boil and pour over the chocolate and let is sit for a few minutes to allow the chocolate to soften.
Once the chocolate has softened, mix the cream and chocolate together and then set aside to cool.
Remove your cakes from the tins by gently flipping the upside down onto a cutting board or a clean benchtop.
If using a cake turntable, position your cake in the center and spread on a layer of ganache approximately 0.5 cm thick. You can do this just directly onto your serving platter.
Place the next layer of cake on top and repeat and ganache layer.
Place the last cake layer on the top and coat the whole cake in the ganache.
Once fully coated, you may decide to recoat for a thicker layer or simply pipe decorations on top. 
Tips
You may need to trim your cake layers slightly to ensure they are completely flat and perfect for stacking.
Keep an eye  on how runny or thick your ganache is and adjust accordingly with heat to soften and smooth or refrigerating to firm up and thicken.
Notes
Your ganache should be smooth and spreadable when decorating your cake. If the ganache has started to harden and has become thick, microwave the ganache 10 seconds at a time to slightly warm and make more spreadable.
This cake can be decorated with chocolate shards and other chocolate decorations. See our Chocolate Tempering post to find out how to temper your own chocolate.
Makes: 1 x 6 inch 3 layer cake