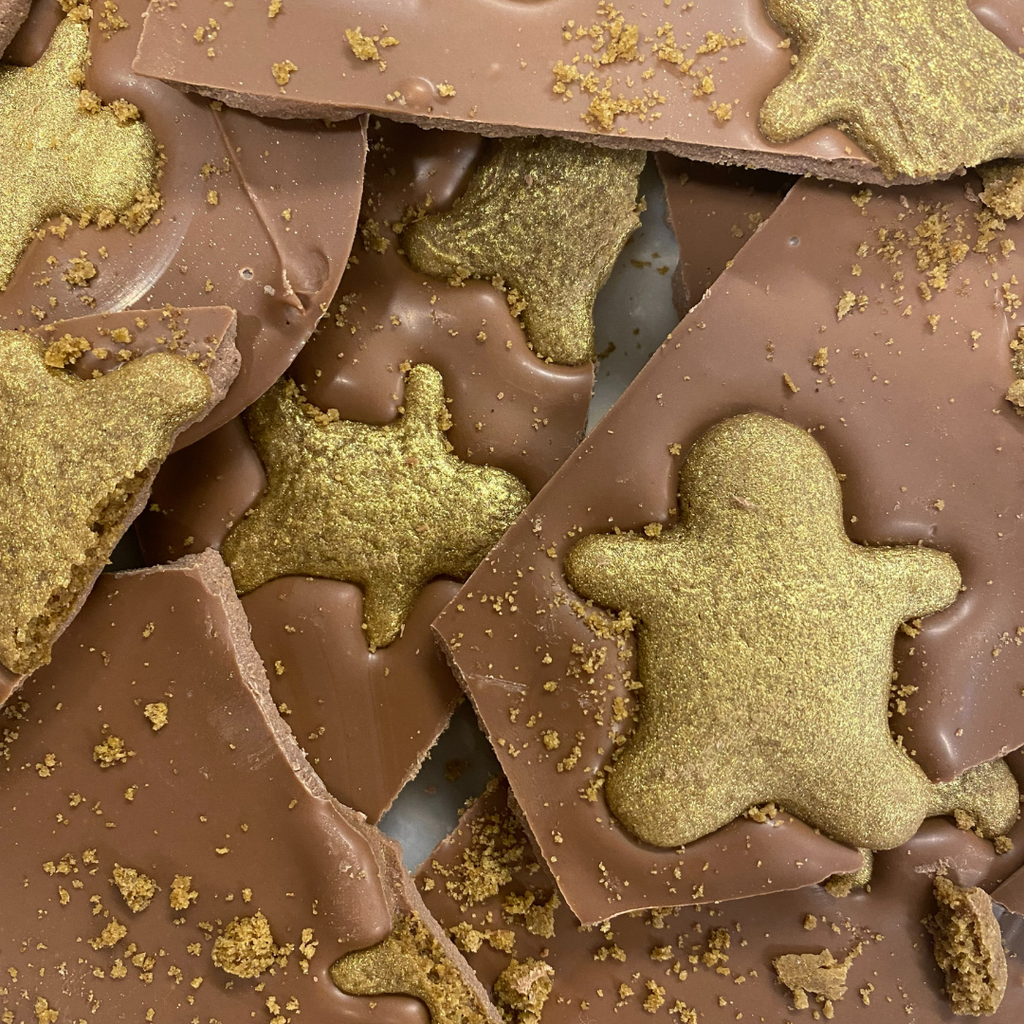 Ingredients
50g unsalted butter (at room temperature)
50g molasses
50g brown sugar
1 large egg (room temperature)
1/2 teaspoon ginger
1/4 teaspoon nutmeg
1/2 teaspoon cinnamon
120g plain flour
1 teaspoon baking powder
800g milk chocolate
Equipment
Gingerbread man cookie cutter (various sizes)
Flat tray 26cm x 34cm (for your chocolate bark)
Stand mixer or hand held mixer
Baking paper 
Baking tray (to bake your cookies)
Sieve
Plastic wrap
Rolling pin
Spatula
Method
To prepare your gingerbread dough, add the unsalted butter, molasses, brown sugar and egg to your stand mixer, using the paddle attachment beat on high speed for 1 minute until creamy. 
Using a spatula scrape down the sides and bottom of the bowl to make sure everything is fully combined.
In a medium bowl, sift all your dry ingredients together. 
Pour the dry ingredients into your wet mixture and mix on low until just combined.
Scrape your dough out of the bowl and onto a sheet of plastic wrap.
Wrap your dough in the plastic wrap making sure to press down firmly, pushing it into a round flat disk which will assist you when rolling out later. Place in the fridge to harden for at least 3 hours, this is important as the dough is quite wet and chilling your dough will make it easier to roll out. 
Preheat your oven to 180 degrees celsius (fan forced). Line your baking tray with baking paper and put aside.
When ready to roll your dough, generously dust your bench, rolling pin and hands with flour. Start in the middle and slowly roll and push the dough out into an even flat shape. Make sure to pick up your dough and rotate it through the rolling process and continue to add flour to avoid sticking. You want your dough about 3mm thick. 
Dip your gingerbread man cutter in flour and then press firmly into your dough, repeat this step as many times as possible. 
Carefully lift up the excess dough and using a spatula transfer your gingerbread men to the baking tray, making sure to keep them at least an inch apart. 
Refrigerate your gingerbread men for 15 minutes before baking, this will help them keep their shape.
Bake for 15 minutes, rotating yoru tray half way through. 
Leave to cool on the tray for about 5 minutes and then transfer to a cooling rack to cool completely.
Whilst your cookies are cooling start to temper your chocolate, you can refer to our 'How to temper' blog post to run you through the process.
Using a flat tray lined with baking paper, pour your tempered chocolate on and spread evenly using a spatula. Give the tray a light tap on your bench to settle the chocolate.
Keep two cookies aside and place the rest of the cookies on the chocolate in a pattern of your choosing. Lightly press them down.
Crush your two reserved cookies and sprinkle over the chocolate bark (preferably in the chocolate spaces and not the cookies).
Set in the fridge for 10 minutes.
You can now break up your bark to your desired shape and size.
Store in an airtight container for up to a week. 
Tips
We used 2 different sized gingerbread men, one 5cm tall and one 7cm tall. Feel free to use only one or mix and match, you can even interchange one size for a small star cookie cutter.
If you want the bottom of your bark to be shiny, replace the baking paper with transparency film, which can be found in places like Officeworks here. You are able to wash it and re use it time and time again with chocolate work. 
Makes 1 large slab of chocolate bark