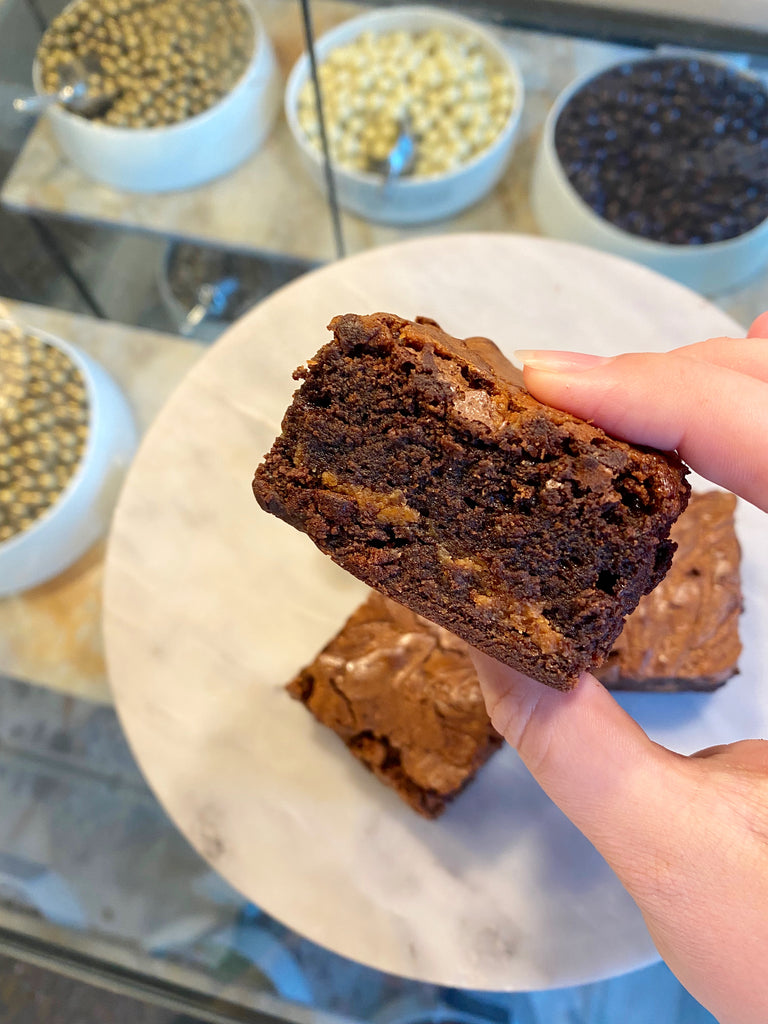 Ingredients
1x 150g bag of New Farm Confectionery Peanut Brittle
250g roasted peanuts
Pinch of salt
300g unsalted butter
300g dark chocolate
200g caster sugar
350g brown sugar
6 eggs
2 tsp vanilla extract
150g plain flour
60g cocoa powder
2 tsp salt
Equipment
24cm x 30cm rectangle pan
Baking paper
Food processor
Stand mixer or hand held mixer
Method
Preheat your oven to 160 degrees celsius (fan forced). Butter your baking tray and line with parchment, leaving about an inch overhang on two sides.
To prepare your 'peanut butter' add a bag of New Farm Confectionery peanut brittle, peanuts and salt to your food processor and blitz on high until a smooth paste forms, making sure to scrape down the sides half ways through to ensure all ingredients are incorporated.
Start your brownie batter by adding the unsalted butter and dark chocolate to a small saucepan and heat slowly on a low heat, making sure to mix continuously to avoid burning. Once the ingredients have fully melted together, remove from heat. 
Whilst your mixture is cooling slightly, use your stand mixer (or hand held) to whisk your eggs, sugars and vanilla extract on high speed for approx 4 minutes or until it has doubled in size and become pale and foamy in appearance. 
Turn your mixer to the lowest speed and slowly pour your chocolate mixture in a thin stream into the whipped eggs
In a medium bowl sift your dry ingredients together and then slowly fold them into your wet mixture
Pour half your batter into your prepared baking tray and smooth with a spatula until flat
Spoon half your peanut butter sporadically over the brownie batter and carefully by using a knife, create swirls by making figure 8's through your batter. 
Pour in the rest of the brownie batter and repeat the same process with the leftover peanut butter.
Bake in your preheated oven for 1 hour and 10 minutes.
Cool in the baking tray fully before using the overhanging parchment to pull the brownie out of the tray.
Cut into desired shape and enjoy!
Tips
Place your brownie slab in the fridge for 30 minutes to slightly harden before cutting as this will create sharp lines and neat brownie squares.